NATIONAL WILDLIFE MAGAZINE Feb-March 2018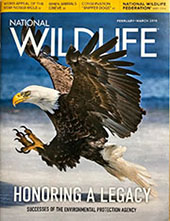 NATIONAL WILDLIFE MAGAZINE, February - March 2018 Issue.
Feature : When Animals Grieve.
Images of a Burchell's Zebra Stallion trying to resuscitate a female dead while giving birth in the Etosha National Park, Namibia.
The Stallion tried everything to resuscitate the female, pushing her with his head, pulling her with his legs, lifting her up with his teeth in his mouth, in vain.
---